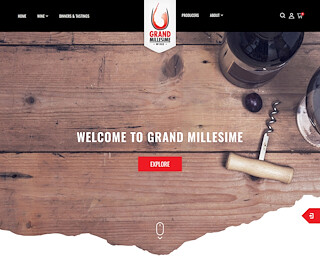 Wine is very important during special occasions like the holidays, anniversaries, birthdays, and other celebrations. Stock up on wine from Grand Millesime. When you buy premium wine from us, we will offer it at an attractive price. We have a superb stock if wine that are personally sourced. Visit our website to choose from our impressive wine inventory.
Whether you are holding a simple dinner at home or a formal function for your company, you should take time to plan the most important part of the event—the menu. A meal is not complete without wine. If you are to buy premium wine then do so online. This way, you can enjoy a wider selection and even better pricing compared to buying bottles from a retail shop or grocery.
Some of the best wines in the world come from France, but other wine regions are now stepping up their game to offer excellent bottles. You can choose wine from Germany, Hungary, Italy, Portugal, Spain, Australia, Crimea, Austria, USA, or Canada, depending on your menu. You should also take time to determine the best pairings. 
Wine does not have to be very expensive to be excellent—you just need to research to find the best ones. At Grand Millesime, our motto is "quality over quantity". Our company is actively searching for new and exciting wine producers and we even have bottles from private cellars. We have bottles you can't find from regular wine merchants. 
If you want to buy premium wine at the best price, we offer wholesale for retailers and restaurants as well as pre-arrival sales. Aside from selling wine bottles, we can also help you with event planning and even provide you a personal cellar manager. Just go through our website to find out more about our services. If you have any enquiries, fill up the contact form here on grandmillesime.com.au.
Related Posts
Nowadays, you can buy premium wine online instead of hunting down a bottle from store to store. Grand Millesime can even track a specific vintage bottle for you if it is not in stock from our website. We carry fine and premium wines from respectable wine countries including Italy, France, Spain, Germany, and Portugal.
We welcome your comments!