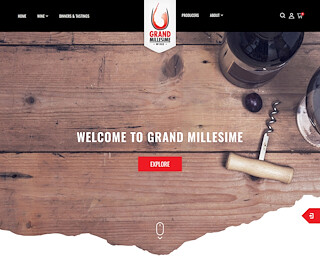 If you want to buy premium wines to complete your collection or fill your cellar, visit Grand Millesime website. As specialist French Wine importers, we can source bottles from private cellars. We can also track down a specific vintage bottle for you. Our rare wines are very impressive and we are always on the lookout for new and exciting wines from small producers, too.
Some wines go well with certain types of food, so it is important to consider your menu before you buy premium wines. The right wine will enhance the experience of enjoying a dish and make your food seem tastier, its flavours exploding in your mouth. While there really are no hard and fast rules, many wine connoisseurs follow certain guidelines when pairing wine with food:
•
The idea is to match and complement the food's characteristics, or contrast the overpowering characteristics of the food. For instance, spicy food goes well with sweet wine.
•
To be safe, pick red wine for lamb and beef dishes. Full-bodied reds like cabernet and shiraz are good choices, or you can go for Pinot Noir and Cabernet Sauvignon.
•
White wine goes with chicken. Try Chardonnay with roast or grilled chicken, or a medium-bodied Cabernet Sauvinon or Shiraz with chicken with rich sauce. White wine is also great with seafood and fish.
•
Full-bodied wines go with hard cheeses, sweet wines for desserts, spicy reds for game, and Pinot Noir for duck or quail.
Pick a wine store that specialises in importing fine wines from the best vineyards around the world, like what Grand Millesime does. We have wines from several private cellars, whether it is Jayer, DRC, Coche-Dury, or Leflaive. We personally taste and import our wines, so you can be sure that we know what we are selling to you. Buy premium wines here at Grand Millesime. We have the knowledge that can help you decide on which wine to purchase online.
Related Posts
Buy premium wines online with ease at Grand Millesime. Visit our website, which makes it easy for you to find a specific wine by having a special product filter. You can choose wines by type, by location, by quality, by size, by varietal, by colour, by producer, and even by year made.
We welcome your comments!